How to Connect
The Last Outpost is a text-based Multi User Dungeon game, and is compatible with most MUD Client software. We recommend using the last-outpost.com web client to connect because it is fast, secure, supports IPv6, and provides everything you need to play the game on your phone or your computer without having to install additional software. Click on the castle at the bottom of the page to try it out!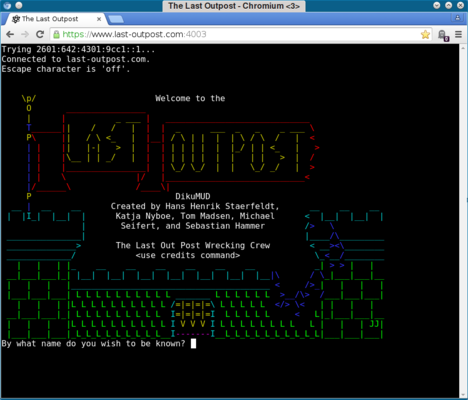 If you can't connect through our web interface, there are many other ways to get into the game. Most of these other clients will ask for a hostname and a port. You should use:


Host: last-outpost.com
Port: 4000
For a multi-platform traditional mud client, TINTIN++ is tough to beat! It also supports character-at-a-time mode, so all of LO's command shell features will be available! Be sure to turn on "#config charset utf-8" for proper utf8 support.
There are other browser based MUD clients that can connect to the Last Outpost. The client at Grapevine is a very nice linemode client, and renders the game nicely. The client at The Mud Portal is another option.
For Android phones and tablets we recommend installing our web client on your homescreen, or intalling BlowTorch MUD Client.
For Apple phones and tablets, try MUDRammer - A Modern MUD Client
For Linux, Macintosh, UNIX, VMS, and some older versions of Windows, type telnet last-outpost.com 4000 from a command prompt.
For Windows we recommend PuTTY, a free Win32 telnet/SSH replacement.
If you find a MUD Client that you particualrly enjoy, be sure to let us know about it, and send in a picture for our Screenshots Collection!